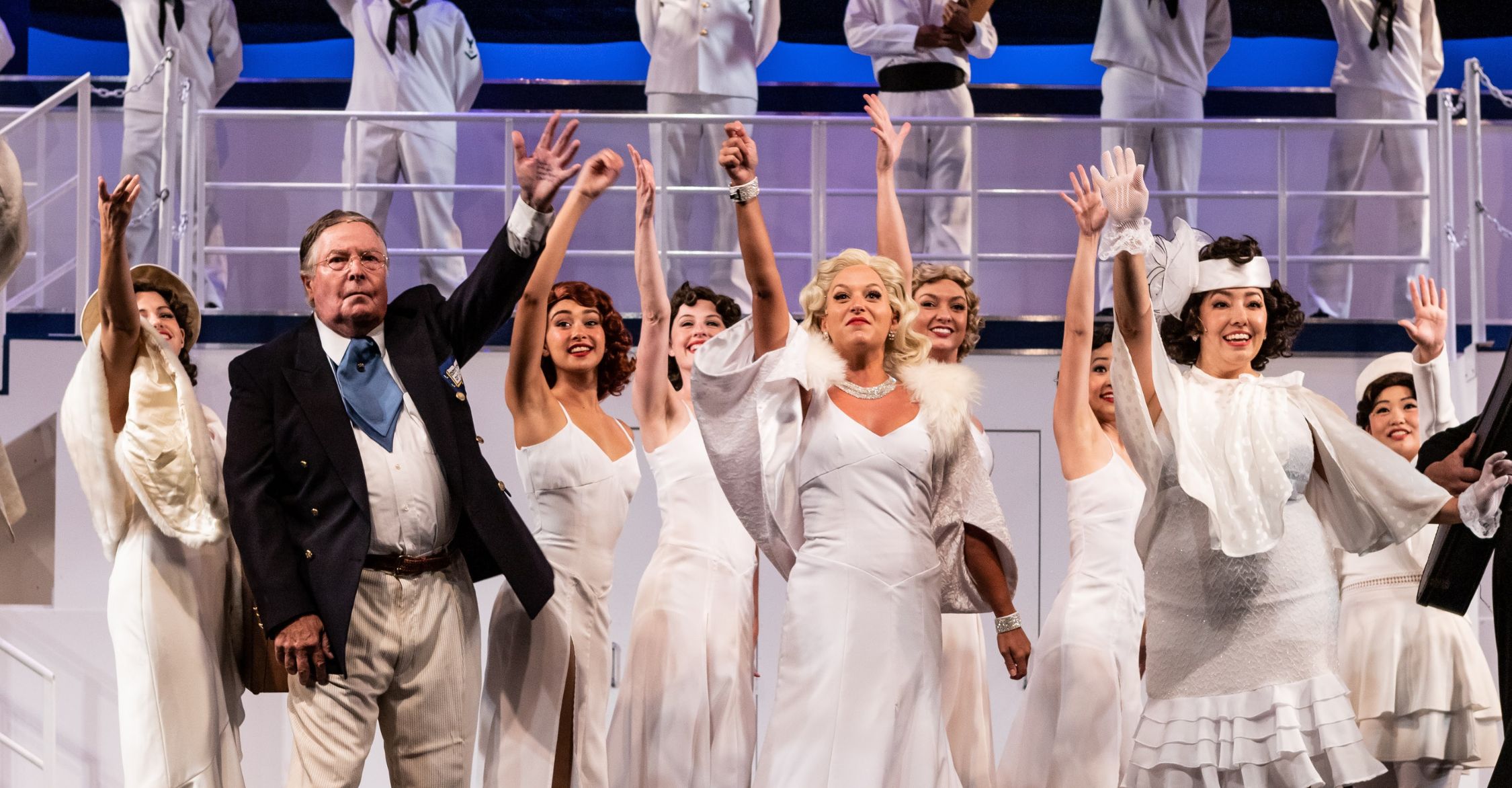 Director & Choreographer
John Rampage
Original Book
P.G. Wodehouse & Guy Bolton
Howard Lindsay & Russel Crouse
Musical Director
Jenny Shiroma
Music & Lyrics
Cole Porter
New Book
Timothy Crouse &
John Weidman
Tap Choreography
Caryn Yee
Anything Goes
September 9 to October 2, 2022
The age-old tale of Boy-Meets-Girl and the complications which ensue intrigue every audience, and no musical puts it on the stage better than this one. Nightclub singer/evangelist Reno Sweeney has set sail on the ocean liner S.S. American, headed to England. Her pal Billy Crocker has stowed away to be near his love, Hope Harcourt, but the problem is Hope is engaged. Joining this love triangle are Public Enemy #13, Moonface Martin and his sidekick-in-crime Erma. With the help of some elaborate disguises, tap-dancing sailors and good old-fashioned blackmail, Reno and Martin join forces to help Billy in his quest to win Hope's heart.
Director & Choreographer
John Rampage
Musical Director
Lindsay Rabe
Music
Richard Rodgers
Book & Lyrics
Oscar Hammerstein II
Cinderella
January 20 to February 12, 2023
Cinderella dreams of a life as anything other than a servant. When her Fairy Godmother arrives, her wish is granted and Cinderella is transformed. This musical will make your heart soar when the slipper fits. Songs included: "Impossible" and "Do I Love You Because You're Beautiful."
Book
Harvey Fierstein
Music & Lyrics
Jerry Herman
Based on the play by
Jean Poiret
La Cage Aux Folles
March 24 to April 9, 2023
George is the manager of a Saint-Tropez nightclub featuring the drag entertainment, and Albin is his long-time romantic partner and the star attraction. Things are going swimmingly until Georges' son Jean-Micheal brings home his ultra-conservative, soon-to-be inlaws. A heartwarming show about family and commitment and the basis for the movie "The Birdcage."
Book
Alexander Dinelaris
Based on
Warner Bros. Film
Screenplay
Lawrence Kasdan
The BodyGuard 
May 26 to June 11, 2023
Based on the Warner Bros. Film, The Bodyguard features irresistible Whitney Houston classics including: "One Moment in Time," "Saving All My Love" and "I Will Always Love You." The Story follows the film-superstar Rachel Marron who finds herself in need of a bodyguard. Each expects to be in charge. What they don't expect is to fall in love.
Book
Linda Woolverton
Music
Alan Menken
Lyrics
Howard Ashman &
Tim Rice
Beauty and the Beast
July 21 to August 6, 2023
This tale of Belle is a story of a young woman in a provincial town and the Beast, who is really a young prince trapped under the spell of an enchantress. If the Beast can learn to love and be loved, the curse will end, and he will be transformed into his former self. Filled with unforgettable tunes such as "Be Our Guest" and "Beauty and the Beast."