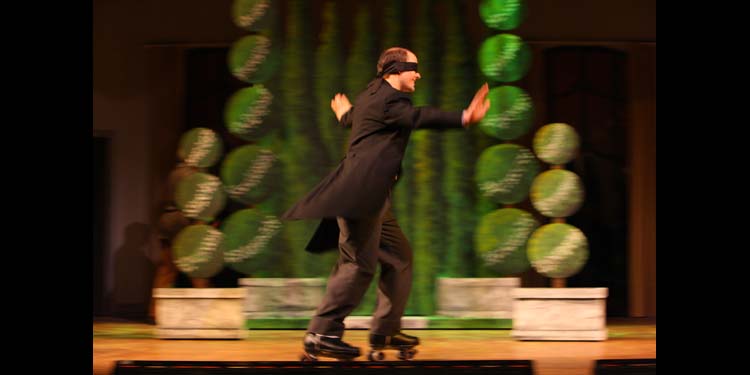 Director & Choreographer
James Patterson
Musical Director
Phil Hidalgo
Music & Lyrics
Lisa Lambert
Greg Morrison
Book
Bob Martin
Don McKellar
The Drowsy Chaperone
September 25 to October 11, 2009
The Drowsy Chaperone begins with the audience being greeted by the narrator, Man in the Chair, sitting on a darkened stage. He is a fan of vintage musicals who seems to be suffering from the blues, and he quickly decides to cheer things up by playing a record of the original cast recording of a (fictional) Broadway musical entitled "The Drowsy Chaperone". No sooner has the needle touched the record than we, together with the narrator, are transported to a 1928 Broadway theater and into a play-within-a‐play crammed full of every cliché, gag and gimmick from the golden age of musicals.
Director
John Rampage
Choreographer
John Rampage & Caryn Yee
Musical Director
Emmett Yoshioka
Based Upon
The Paramount Pictures Film
Written For The Screen
Norman Krasna
Norman Panama
Melvin Frank
Music & Lyrics
Irving Berlin
Book By
David Ives
Paul Blake
Original Stage Production Director
Walter Bobbie
Orchestrations
Larry Blank
Vocal & Dance Arrangements
Bruce Pomahac
Irving Berlin's White Christmas
December 4 to 20, 2009
Two army buddies from World War II have become a very successful song and dance team. They meet up with two sisters and follow the girls to their next show at an inn in Vermont. Arriving at the inn, they discover it's empty—no snow!—but the innkeeper turns out to be their beloved former commanding general. The boys decide to try to drum up some business for the old man by bringing in their whole show…and ultimately their whole division. But not without mishaps! Hit songs include: "Blue Skies", "Count Your Blessings", "Sisters", and of course, "White Christmas".
The Joy Luck Club
Based on the beloved book by Amy Tan, The Joy Luck Club tells the story of four older Chinese‐-American women and their complex relationships with their American-‐born daughters. Eight voices, all compelling, tell dozens of emotional, tightly woven stories. The play moves between China in the early 1900s to San Francisco in the 1980s, as the eight women struggle to reach across a seemingly impassable chasm of culture, generation and expectations to find strength and happiness. A must-see for mothers and daughters (and whole families) of all ethnicities.
Director & Choreographer
John Rampage
Musical Director
Alethea Train
Creator
Phillip George
David Lowenstein
Peter Charles Morris
Originally Produced Off-Broadway In New York City
Victoria Lang
P.P. Piccoli
Mark Schwartz
Developed In Association With
Amas Musical Theatre
Donna Trinkoff
Shout!
March 19 to April 4, 2010
SHOUT! flips through the years like a musical magazine and takes you back to the music, the fashion and the freedom of the '60s—with tongue planted firmly in cheek. Everything from the period is recreated—from the fashions and the dances, to the music and the hair. A non‐stop journey through the infectious and soulful pop songs, such as "To Sir With Love", "Downtown", "You Don't Have to Say You Love Me", "Georgy Girl", and "Windy", which made household names of stars like Lulu, Petula Clark, and Dusty Springfield.
SHOUT! is recommended for audiences ages 13 years and older due to adult content.
Director
Rob Duval
Choreographer
Christine Yasunaga
Musical Director
Emmett Yoshioka
A Musical Fable Of Broadway
Based On A Story And Characters Of
Damon Runyon
Music & Lyrics
Frank Loesser
Book
Jo Swerling
Abe Burrows
Guys and Dolls
May 14 to May 30, 2010
Set in Damon Runyon's mythical New York City, the show soars with the spirit of Broadway as it introduces us to a cast of vivid characters who have become legends: Sarah Brown, the upright but uptight "doll"; Sky Masterson, the slick, high‐rolling gambler; Adelaide, the nightclub performer, engaged to the same man for 14 years; and Nathan Detroit, her devoted fiancé. Musical Highlights: "Luck Be A Lady Tonight", "A Bushel and a Peck", and "Guys and Dolls".
Director & Choreographer
Greg Zane
Musical Director
Emmett Yoshioka
Music
Richard Rodgers
Lyrics
Oscar Hammerstein II
Book
Howard Lindsay
Russel Crouse
Suggested
"The Story Of The Trapp Family Singers"
The Sound of Music '10
July 9 to August 8, 2010
When a postulant proves too high‐-spirited for the religious life, she is dispatched to serve as governess for the seven children of a widowed naval Captain. She captures the heart of the stern Captain, and they marry. Upon returning from their honeymoon they discover that Austria is being occupied by the Nazis. The family's narrow escape over the mountains to Switzerland on the eve of World War II provides a thrilling and inspirational finale.
Musical Highlights: "The Sound of Music", "My Favorite Things", and "Edelweiss".