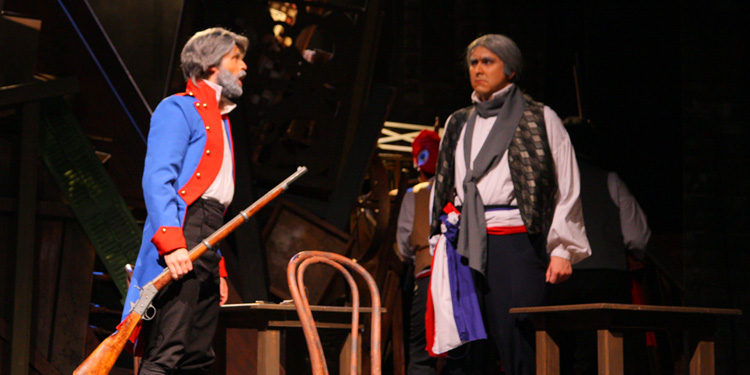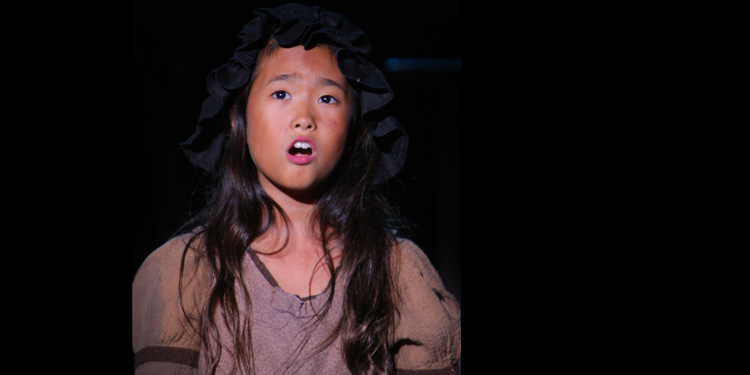 Director & Choreographer
Peter Lockyer
Melanie Tojio Lockyer
Musical Director
Phil Hidalgo
A Musical
Alain Boublil
Claude-Michel Schonberg
Based On A Novel
Victor Hugo
Music
Claude-Michel Schonberg
Lyrics
Herbert Kretzmer
Original French Text
Alain Boublil
Jean-Marc Natel
Additional Material
James Fenton
Musical Director
Phil Hidalgo
Les Miserables
September 26 to October 12, 2008
This epic story recounts the struggle against adversity in 19th century France. Imprisoned for stealing a loaf of bread, petty thief Jean Valjean is released and becomes not only an honest man, but the mayor of a prosperous town, and a loving adoptive father. His past haunts him however in the form of the relentless Inspector Javert. Valjean eventually proves his mettle during a bloody student uprising, saving the life of a young man in love with his daughter.
Musical Highlights
"I Dreamed a Dream"; "Do You Hear the People Sing?"
Director & Choreographer
Greg Zane
Musical Director
Emmett Yoshioka
Musical Based On The Play
James M. Barrie
Music
Mark Charlap
Lyrics
Carolyn Leigh
Peter Pan
September 26 to October 12, 2008
Peter Pan, like its namesake, is a tale which never ages. Children and adults alike have all fallen under the spell of Neverland, a place where children can fly, and exciting and frightening, adventures happen every single day. Peter is a boy who won't grow up, instead spending his days battling pirates and Indians and avoiding Captain Hook. One day Peter loses his shadow and flies into the home of Wendy whom he convinces to fly with him to Neverland. Peter's trusty companion, Tinkerbell, however, sees trouble ahead!
Musical Highlights
"I Won't Grow Up"; "I'm Flying".
Director
John Rampage
Starring
Laurence Paxton
Stefanie Smart
A Play With Music
Stephen Temperly
Laurence Paxton
Stefanie Smart
Souvenir
January 30 to February 15, 2009
Despite a slew of songs, Souvenir is not a musical, and although the characters and situation are based on fact, it is definitely not a dramatized history lesson. This show is precisely what it claims to be, a "fantasia" inspired by the real-life collaboration between pianist Cosme McMoon and soprano Florence Foster Jenkins. Jenkins was a socialite who gave a series of charity concerts in the 1930s and 40s that have become the stuff of legend, not because of their quality, but because the woman had a violently uncertain sense of pitch and key. Souvenir finds McMoon some two decades after Jenkins' death, performing in a Greenwich Village piano bar and reminiscing about the dozen years he worked with "Madame Flo." The play takes a humorous look at the true meaning of music and the art of performing. Is "exactitude" of technique the real goal, or is it the honest expression of the artist's soul? Jenkins is depicted as blissfully incapable of hearing her own vocal inadequacies, and McMoon gradually moves from being an incredulous paid accompanist to standing by her as a faithful and supportive artistic partner. While audiences will come to Souvenir expecting to laugh (and goodness knows there is laughter aplenty here), they will also find themselves touched by a surprisingly appealing story of two people finding friendship.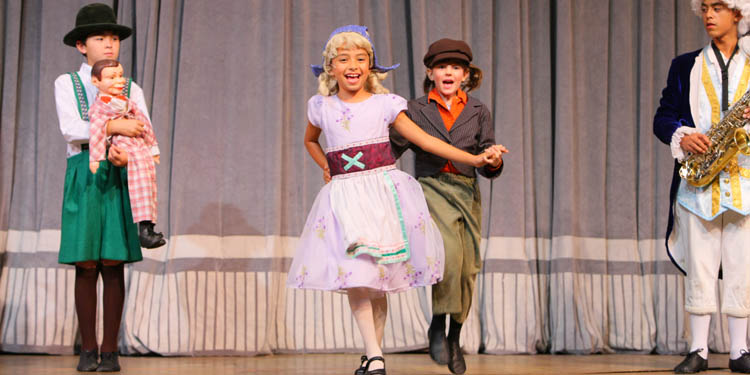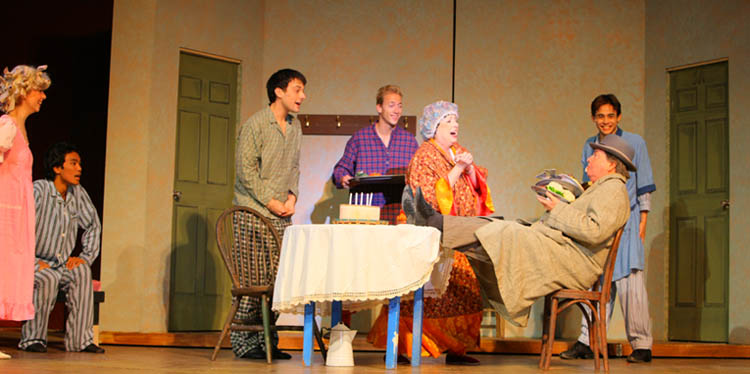 Starring
Shari Lynn As Mama Rose
Director & Choreographer
John Rampage
Musical Director
Emmett Yoshioka
Book
Arthur Laurents
Music
Jule Styne
Lyrics
Stephen Sondeim
Gypsy
March 20 to April 5, 2009
Gypsy, one of the jewels of American musical theatre, is based loosely on the memoirs of Gypsy Rose Lee (the famous striptease artist). The show is set amid the worlds of vaudeville and burlesque, and focuses on Rose, whose character has become synonymous with the show business mother driven to make her child a star. In Rose's case, that would-be star was Rose's younger daughter, June. But when June leaves the "family act", Rose turns to daughter Louise to push her into the spotlight. Wanting desperately to make her mother happy, the shy Louise transforms into the glamorous and wildly successful Gypsy Rose Lee. In addition to the Ethel Merman original production in 1959, there have been numerous successful revivals of Gypsy on Broadway including the current 2008 version starring Patti Lu Pone.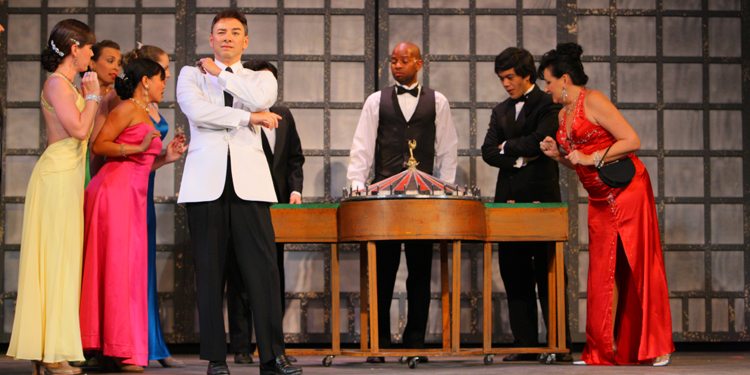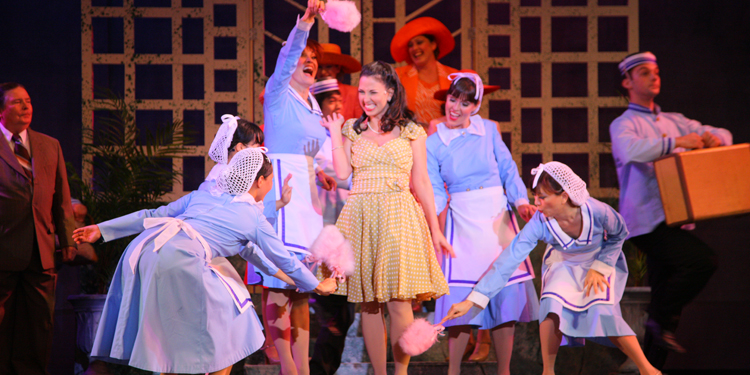 Director
Rob Duval
Choreographer
Christine Yasunaga
Musical Direction
Melina Lilios
Book
Jeffrey Lane
Music & Lyrics
David Yazbek
Based On The Film
"Dirty Rotten Scoundrels"
Writer
Dale Launer
Stanley Shapiro
Paul Henning
Dirty Rotten Scoundrels
May 15 to May 31, 2009
The musical Dirty Rotten Scoundrels is based on a popular 1998 film by the same title. It's about two fraudsters, Lawrence Jameson and Freddy Benson, living on the French Riviera. Lawrence is a cultivated and suave gentleman who cons rich ladies out of their money. Freddy on the other hand is a small time American thief who cons women into giving him money by telling made up stories about his sick grandmother. One day they meet on the train and try to setup some work together, but soon find out that the small French town they live in isn't big enough to support two scammers. So they setup a challenge, they agree that the first person to successfully steal $50,000 from a young heiress, Christine Colgate will get to stay in town, while the loser gets to leave. The battle between them then starts, with many twists and laughs along the way.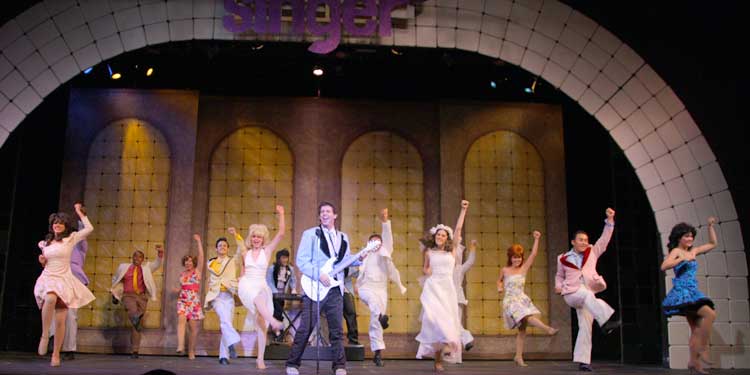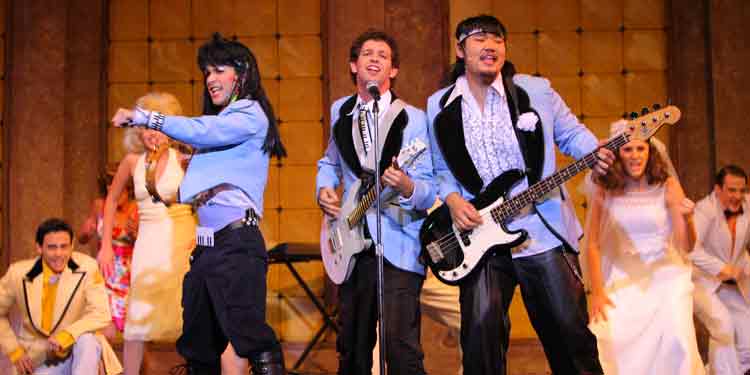 Director & Choreographer
Scott White
Musical Director
Emmett & Judy Yoshioka
Book
Chad Beguelin
Tim Herlihy
Music
Matthew Sklar
Lyrics
Chad Beguelin
The Wedding Singer
July 10 to July 26, 2009
In The Wedding Singer it's 1985 and rock-star wannabe Robbie Hart is New Jersey's favorite wedding singer. He's the life of the party—until his own fiancée leaves him at the altar. Shot through the heart, Robbie makes every wedding he plays as disastrous as his own. Enter Julia, a winsome waitress who wins his affection. Only trouble is Julia is about to be married to a Wall Street shark, and unless Robbie can pull off the performance of the decade, the girl of his dreams will be gone forever. With a brand new score that pays loving homage to the pop songs of the 1980's, The Wedding Singer takes us back to a time when hair was big, greed was good, collars were up, and a wedding singer just might be the coolest guy in the room.