Director & Choreographer
Tim Albrecht
Musical Director
Melina Lillios
Music & Lyrics
David Yazbek
Book
Terrence McNally
Based On The
Motion Picture Released by
Fox Searchlight
Pictures & Written
Simon Beaufoy
The Full Monty
September 23 to October 9, 2005
Seeing how much their wives enjoy watching male strippers during their "Girls' Night Out," unemployed steelworkers in Buffalo New York come up with a bold way to make some quick cash. In the process they find renewed self-esteem, the importance of friendship and the ability to have fun. As the guys work through their fears, self-consciousness, feelings of worthlessness and anxieties (over everything from being overweight to child custody, bigotry to being gay), they come to discover that not only are they stronger as a group, but that the strength they find in each other gives them the individual courage to face their demons and overcome them. There is great heart to THE FULL MONTY, and the ultimate themes expressed in the show, about taking charge of one's life and following one's dreams are great lessons for all of us. And truth be told, through creative directing and staging, the final impact of "The Full Monty" can be achieved without ever losing your jockey shorts!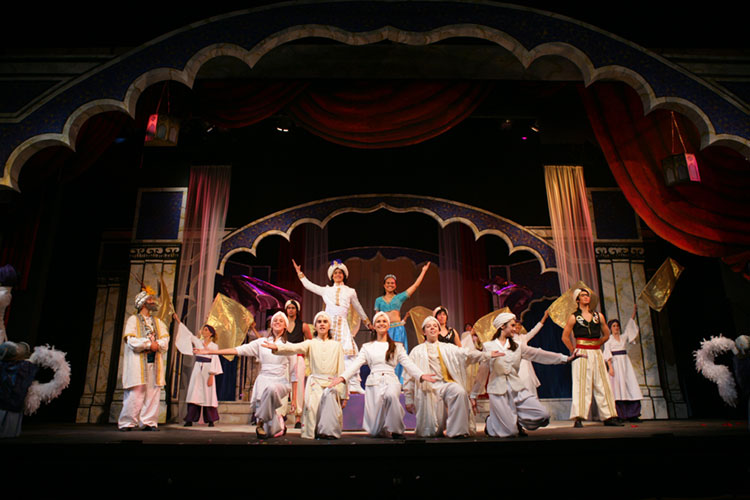 Director & Choreographer
Miles Wesley And & Adealani Malia
Musical Director
Emmett Yoshioka
Music
Alan Menken
Lyrics
Howard Ashman & Tim Rice
Book Adapted & Additional Lyrics
Jim Luigs
Music Adapted & Arranged
Bryan Louiselle
Based on the Screenplay
Ron Clements,
John Musker,
Ted Elliott
& Terry Rossio
Disney's Aladdin Jr.
December 2 to December 18, 2005
Welcome to Agrabah, City of Enchantment, where every beggar has a story and every camel has a tail! All of your favorite characters are here in this stage adaptation of the Disney hit, including Aladdin, Jasmine, and of course, the Genie. Filled with magic, mayhem, and flying carpet rides, audiences' spirits will soar with excitement. Most of all, the tuneful, Academy award-winning score with songs including "A Whole New World" and "Friend Like Me" will certainly make this musical a favorite for many years to come!
Director
Randl Ask
Play
Matthew Barber
From The Novel 
Elizabeth Von Arnim
Enchanted April
February 3 to February 9, 2006
Enchanted April is a play about the power of nature and nurture. Two women, so unhappily married, so degraded, so self-righteous, find each other and then escape to Italy, to an advertised castle, because the artistic, young property owner has placed an advertisement. Along with these two not-so-old escapees, are an elderly dowager and a young seductress. Husbands appear, and there is hilarity and the element of timing and slapstick that enervates the bucolic setting of Italy, after the stark British interiors.
Director & Choreographer
Greg Zane
Musical Director
Judy Yoshioka
Book, Music & Lyrics
Rupert Holmes
Drood
March 24 to April 9, 2006
This wildly warm-hearted theatrical experience kicks off when the Music Hall Royale (a hilariously loony Victorian musical troupe) "puts on" its flamboyant rendition of an unfinished Dickens mystery. The story itself deals with John Jasper, a Jekyll-and-Hyde choirmaster who is quite madly in love with his music student, the fair Miss Rosa Bud. Now, Miss Bud is, in turn, engaged to Jasper's nephew, young Edwin Drood. Our title character disappears mysteriously one stormy Christmas Eve-but has Edwin Drood been murdered? And if so, then whodunnit? Musical numbers include The Wage of Sin, Perfect Strangers, Both Sides of the Coin, Don't Quit While You're Ahead and Moonfall. The giddy playfullness of this play-within-a-play draws the audience toward one of DROOD'S most talked-about features, which allows the audience to vote on the solution as prelude to the most unusual and hilarious finale!
Director
John Rampage
Choreographer
Andrew Sakaguchi
Musical Director
Alethea Train
Music & Lyrics
Jerry Herman
Book
Harvey Fierstein
Based On The Play
"La Cage Aux Folles" By Jean Poiret
La Cage aux Folles
May 19 to June 4, 2006
As a long-running Paris boulevard comedy, later as a highly original classic film, and more recently as one of the decade's biggest Broadway musicals and a major hit in the West End at the Palladium, La Cage aux Folles has millions of fans. Jerry Herman's music and Harvey Fierstein's book add new dimensions to the story of the homosexual lovers whose twenty years of domestic tranquillity are shattered when a son, fathered during a one-night heterosexual fling, decides to marry the daughter of a bigoted politician.
Into the Woods
An ambivalent Cinderella? A blood-thirsty Little Red Ridinghood? A Prince Charming with a roving eye? A Witch…who raps? They're all among the cockeyed characters in James Lapine and Stephen Sondheim's fractured fairy tale. When a Baker and his Wife learn they've been cursed with childlessness by the Witch next door, they embark on a quest for the special objects required to break the spell, swindling, lying to and stealing from Cinderella, Little Red, Rapunzel and Jack (the one who climbed the beanstalk). Everyone's wish is granted at the end of Act One, but the consequences of their actions return to haunt them later, with disastrous results. What begins a lively irreverent fantasy in the style of "The Princess Bride" becomes a moving lesson about community responsibility and the stories we tell our children. With plenty of unforgettable roles, transpositions on demand and no chorus, "Into The Woods" is a great way to showcase a talented ensemble cast. And since the show's emphasis is on character rather than spectacle, it is equally at home in large or intimate spaces. One of Sondheim's most popular works, this timeless yet relevant piece is a rare modern classic.