Director
Mary Gutzi
Choreographer
John Rampage
Musical Director
Melina Lillios
Book 
Terrence McNally
A Music & Lyrics 
Stephen Flaherty & Lynn Ahrens
Ragtime
September 26 to October 12, 2003
This epic new musical by the award-winning composer/lyricist team Stephen Flaherty and Lynn Ahrens (Lucky Stiff, My Favorite Year, Once On This Island, Seussical) paints a nostalgic and powerful portrait of life in turn of the century America. Based on E.L. Doctorow's distinguished novel, Ragtime intertwines three distinct stories that poignantly illustrate history's timeless contradictions of wealth and poverty, freedom and prejudice, hope and despair, and love and hate. The score by Lynn Ahrens and Stephen Flaherty is just as diverse as the Melting Pot of America that it seeks to recreate. It draws upon traditional Jewish folk sounds to color the haunting music and yearning lyrics of the immigrants, Vaudeville's outrageous style to capture the spectacle of Evelyn Nesbit, and Joplin and Jazz to invoke the enlivened spirit of Harlem. With a book by Terrance McNally (Kiss of the Spider Woman, Master Class), this 1998 Tony award winning show for best score, book, and orchestrations, features such show stopping songs as "Getting Ready Rag," "Your Daddy's Son," "Wheels of a Dream," "Till We Reach That Day," "Back To Before," and "Make Them Hear You." This momentous musical is sure to inspire actors and audiences alike!
Director & Choreographer
Greg Zane
Musical Director
Emmett Yoshioka
Book 
James M. Barrie
Music 
Mark Charlap & Jule Styne
Lyrics 
Carolyn Leigh,
Betty Comden
& Adolph Green
Peter Pan
December 5 to December 21, 2003
Peter Pan, like its namesake, is a tale which never ages. Children and adults alike have all fallen under the spell of Neverland, a place where children can fly, and exciting and frightening, adventures happen every single day. Peter is a boy who won't grow up, instead spending his days battling pirates and Indians and avoiding Captain Hook. One day Peter loses his shadow and flies into the home of Wendy whom he convinces to fly with him to Neverland. Peter's trusty companion, Tinkerbell, however, sees trouble ahead!
Musical Highlights
"I Won't Grow Up"; "I'm Flying".
Director
Bill Ogilvie
A Play 
Peter Shaffer
Amadeus
February 6 to February 22, 2004
Peter Shaffer's play Amadeus is partly based on the composers Wolfgang Amadeus Mozart and Antonio Salieri, but the play takes a large amount of poetic license and is more focused on entertainment than verifiable fact. At the beginning of the play an elderly Salieri speaks to the audience about his belief that he killed Mozart with poison and then explains his reasons. Salieri was initially impressed by Mozart's compositions. His excitement about meeting Mozart turned to disappointment when he discovered that Mozart's behavior and personal life did not have the grace and dignity of his music. Salieri is upset that God would give the gift of the ability to compose beautiful music to someone who lived their life in opposition to Catholic teachings. Salieri renounced God and begins his plot to destroy Mozart. He pretends to be Mozart's friend while plotting against him. After Mozart's death Salieri attempts suicide and leaves a note saying that he poisoned Mozart, but he survives and nobody believes his note.
Director & Choreographer
Adealani Malia
Musical Director
Alethea Train
Original Concept 
Paul Kelly
Original Direction & Choreography 
Lynne Taylor-Corbett
Swing
March 26 to April 11, 2004
Swing is a show dedicated to the style of the Swing music of the 40's. The show includes over 30 dance numbers on any topic you can think of.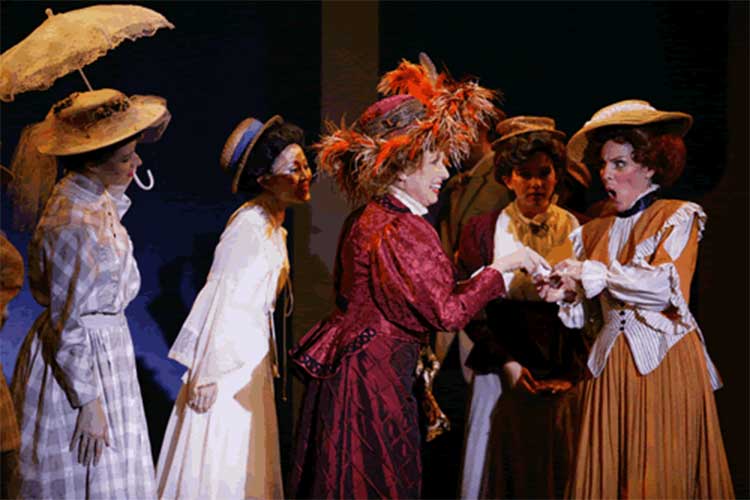 Director & Choreographer
John Rampage
Musical Director
Donald Yap
Book
Michael Stewart Music
Lyrics
Jerry Herman
Hello, Dolly!
May 21 to June 6, 2004
Based on The Matchmaker by Thornton Wilder, Hello Dolly tells the story of Dolly Gallagher Levi, a matchmaker who has been hired to arrange a marriage for the widowed half-millionaire Horace Vandergelder. Dolly, however, has other plans. She has herself been recently widowed and come to the conclusion that Horace and his fortune will make her the perfect mate. So when she arrives in Yonkers, she immediately begins to plant seeds of doubt in Vandergelder's mind about Irene Molloy, the pretty young widow she has picked out for him.
Music 
Andrew Lloyd Webber
Lyrics 
Tim Rice
Director & Choreographer
John Rampage
Musical Director
Roslyn
Jesus Christ Superstar
A global phenomenon that has wowed audiences for over 50 years, Jesus Christ Superstar is a timeless work set against the backdrop of an extraordinary and universally-known series of events—the final weeks in the life of Jesus Christ, as seen through the eyes of Judas Iscariot.
The story, told entirely through song, explores the personal relationships and struggles between Jesus, Judas, Mary Magdalene, his disciples, his followers and the Roman Empire. The iconic 1970s rock score contains such well-known numbers as "Superstar," "I Don't Know How to Love Him" and "Gethsemane." An epic, and for its time, once considered ground-breaking musical.