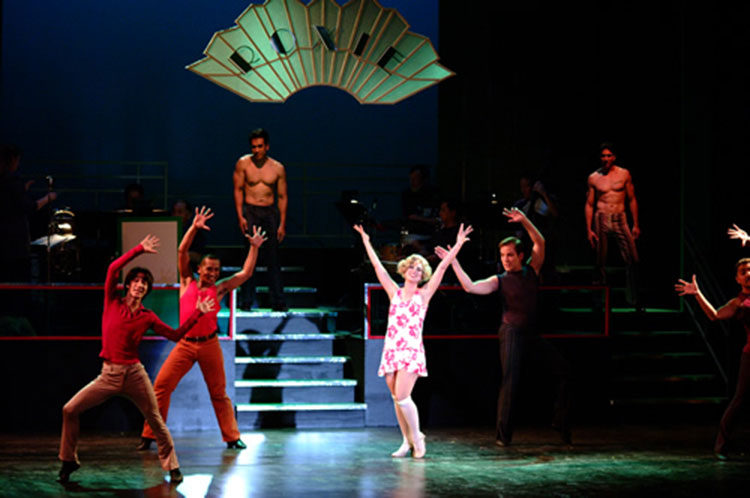 Director & Choreographer
Andrew Sakaguchi
Musical Director
Mary Chestnut Hicks
Book 
Fred Ebb
& Bob Fosse
Music 
John Kander
Chicago
September 27 to October 13, 2002
Based on a 1926 play by Chicago Tribune reporter Maurine Dallas Watkins, Chicago tells the story of Roxie Hart, a chorus girl who murders her unfaithful husband, then manages not only to avoid prison with the help of razzle-dazzle lawyer Billy Flynn, but uses the trial to propel herself to showbiz stardom along with another murderous chorus girl, Velma Kelly. A dark parable of American justice, Chicago is a sexy musical extravaganza that includes several show-stopping numbers such as "All That Jazz," "Razzle Dazzle" and "Class."
Director & Choreographer
Greg Zane
Musical Director
Emmett Yoshioka
Book 
Howard Lindsay & Russell Crouse
Music 
Richard Rogers
Lyrics 
Oscar Hammerstein II
The Sound of Music
December 6 to December 22, 2002
When a postulant proves too high-spirited for the religious life, she is dispatched to serve as governess for the seven children of a widowed naval Captain. Her growing rapport with the youngsters, coupled with her generosity of spirit, gradually captures the heart of the stern Captain, and they get married.
Upon returning from their honeymoon they discover that Austria has been invaded by the Nazis, who demand the Captain's immediate service in their navy. The family's narrow escape over the mountains to Switzerland on the eve of World War II provides one of the most thrilling and inspirational finales ever presented in the theatre.
Director
Bill Ogilvie
Musical Director
Dale Wasserman
Based On The Novel 
Ken Kesey
One Flew Over the Cuckoo's Nest
January 31 to February 16, 2003
McMurphy, landing himself in a mental ward, fights a futile battle to liberate his fellow mental patients from the psychological and emotional controls exerted by Nurse Ratched. She ultimately wins – it could end no other way – but at a cost which diminishes her absolute control over her patients.
Director & Choreographer
John Rampage
Musical Director
Donald Yap
Book & Lyrics
Barry Harman
Music
Keith Herrmann
Romance, Romance
March 21 to April 6, 2003
The Little Comedy (Act 1)
In nineteenth century Vienna, Alfred von Wilmers and Josephine Benniger are discontent with their lives. He is a wealthy young man, tired of women only wanting him for his money, and she is a woman used to wanting men for their money. Confiding their woes to their respective best friends in letters, they both try various ways to sort out their problems. They each seperately decide to dress down and go walking in the park, hoping for something different. They of course meet each other. She pretends to be a poor girl working in a millinary shop, and he tells her he is a starving poet. They each fall madly in love with the others' assumed persona. Their romance is puntcuated by two ghostly lovers, Him and Her (who also portray other minor parts). Can love survive the revelation of the truth?
Summer Share (Act 2)
In the present, best friends Monica and Sam with their respective spouses Lenny and Barb have rented a summer share in the Hamptons for vacation. Lenny and Barb, exhausted from the day, go to bed, leaving the friends to talk. The conversation starts with the realization that they are proof platontic relationships between men and women are possible. But the unseen "ghosts" of their spouses aren't so sure. The talk soon turns to the idea of having affairs, though they both recognize that they love their
spouses very much. The air becomes uncomfortable as the two "platonic" friends realize that they are interested in more than just friendship. They actually leave to indulge their passion, but decide against it and return, much to the relieve of Barb and Lenny's dream figures. While Monica is scared it has destroyed their friendship, Sam asks her to "Leave me my romantic notions."
Director & Choreographer
John Rampage
Musical Director
Donald Yap
Book
James Goldman
Music & Lyrics
Stephen Sondheim
Follies
May 23 to June 8, 2003
A true theatrical event, this legendary masterpiece is considered by many to be the greatest musical ever created. The time is 1971, and theatrical impresario Dimitri Weissmann (famous for his garish Weissmann Follies of yesteryear) hosts a reunion of ex-Follies performers in his crumbling theatre, setting the stage for a parade of brilliant '20s, '30s and '40s pastiche numbers that have become every bit as famous as their models: "Losing My Mind," "I'm Still Here" and "Broadway Baby," to name a few. Amid the reminiscing, two middle-aged couples confront some unpleasant truths about their past and present and come face to face with the future. Surreal, sophisticated, compelling, heart-wrenching and epic in scope, "Follies" uses the musical theatre as a metaphor for the collapse of American innocence and naïveté in the post-Kennedy years. It is a showcase for powerful dramatic actors, featuring a large cast rich in character, which provides opportunities for seasoned older performers. Spectacular and grand in scale, "Follies" has also proven ideal for concert presentation and features many of Stephen Sondheim's best-known songs and a thrilling book by James Goldman, the author of "A Lion In Winter."
Director & Choreographer
Jennifer Waldman
Musical Director
Roslyn Catracchia
Music & Lyrics
Harold Arlen & E.Y. Harburg
The Wizard of Oz
July 18 to August 3, 2003
Little Dorothy Gale of Kansas, like so many girls her age, dreams of what lies over the rainbow. One day a twister hits her farm and carries her away over the rainbow to another world. Come join Dorothy, the Scarecrow, the Tinman, the Cowardly Lion and Toto as they travel the universe of Dorothy's imagination.